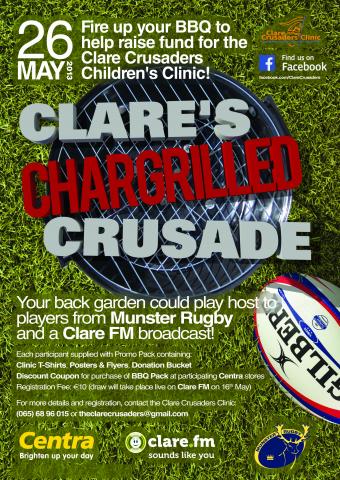 The Clare Crusaders are encouraging families, friends and local communities to come together across Clare and fire up their BBQs to help raise funds for the Clare Crusaders Clinic
As part of the event, those wishing to host a barbeque for the Clinic will be asked to pay a registration fee of €10 to the charity.  In return, hosts will be entered into a draw for a number of prizes with an overall winner's prize of Munster Rugby player appearances at their barbeque. Clare FM will also broadcast from the winning barbeque on the day.   
Each BBQ organiser will be supplied with a promotional pack containing Clinic t-shirts, posters, flyers and a donation bucket together with a discount coupon which can be used to purchase a specially prepared BBQ pack at cost price from their local Centra store.